Summer is a perfect time of year to enjoy fresh fruits and vegetables. With an abundance of produce available, there are plenty of options to choose from when it comes to creating healthy and delicious meals. A great way to spruce up your meals and add color to your plate this summer is by adding in-season fruits and vegetables. Fruits and vegetables are not only refreshing on a hot day, but they are packed with important nutrients like vitamins A and C, potassium, fiber and antioxidants.
What's in-season this summer and early fall?
Yummy in-season fruits include: apples, blueberries, strawberries, raspberries, blackberries, cherries, cantaloupe, honey dew, watermelon, peaches, nectarines and plums!
In addition to fruit, summer is a great time to enjoy in-season vegetables. Here is a list of in-season vegetables: eggplant, green beans, onions, peppers, summer squash, zucchini, broccoli, cauliflower, celery, cucumbers and tomatoes!
Fresh fruits & vegetables are the cheapest to buy when they are in-season! Incorporating these foods is a great way to stay healthy and hydrated during the hot summer months! A few herbs are in-season during the summer months, too! Basil and Garlic can add tons of flavor to your meals and snacks without additional sodium!
Easy ways to add in-season fruits & veggies:
On the side: add a side of berries with your morning oatmeal or cereal, add a peach with your afternoon cheese stick, add some carrots to the side of your crackers and hummus, add a cucumber and tomato salad with your dinner or lunch!
Be sneaky: add some cut up vegetables into your pasta with red sauce, add lettuce and tomato to your burger, add cauliflower to your meatballs!
Blend it up: make yourself a delicious fruit smoothie with non-fat Greek yogurt, blend up a homemade salad dressing that has garlic, basil and lemon juice!
Dip it: dip some cucumbers, peppers or broccoli in hummus or your favorite salad dressing, dip some fruit in non-fat Greek yogurt, strawberries dipped in chocolate hummus, apples dipped in peanut butter makes a wonderful snack!
Grill them up: grilled peaches, grilled summer squash & zucchini, grilled peppers & onions, grilled eggplant!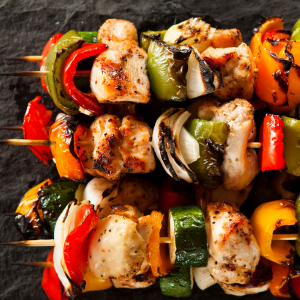 Grilled/Baked Vegetable Kabobs *you can choose whatever vegetables you prefer*
Ingredients
:
1 summer squash (cut into half-moons)
1 cup grape tomatoes
1 red onion (cut into triangles or chunks)
1 zucchini (cut into half-moons)
Directions:
1. Prepare skewers (if you're using wooden or bamboo, soak them in water for at least 30 minutes)
2. In a large mixing bowl, mix herbs & pepper with vegetables and olive oil
3. You can marinate these skewers / prepare them ahead of time. Leave them in the fridge until ready to grill.
4. Heat a gas grill to medium, arrange the skewers and cook for ~10 minutes or until veggies are cooked and charred in some parts or Heat your oven to 400F degrees, assemble the kabobs on a large sheet pan and roast for ~15 minutes or until the veggies are cooked to your liking!
** Pro tip: you can add chicken or tofu to make this a bit more filling. Add brown rice, whole-wheat pasta, corn, or sweet potatoes to make it a complete meal!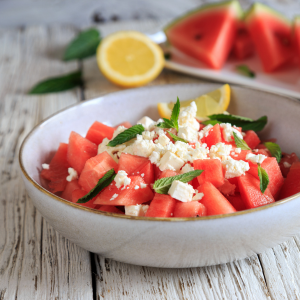 Watermelon Basil Feta Salad
Ingredients:
4 cups of watermelon cubed
½ small red onion sliced
1 cucumber (cut into half-moons)
½ cup feta cheese
½ cup basil (sliced into thin strips)
Dressing:
2 Tbsp of honey
2 Tbsp lime juice
2 Tbsp olive oil
pinch of salt & pepper
Directions:
1. Combine watermelon, red onion and cucumber in a bowl
2. In a separate bowl make the dressing: whisk together honey, lime juice, olive oil, salt, pepper.
3. Drizzle dressing over the watermelon-onion-cucumber mixture.
4. Sprinkle the salad with feta cheese and basil, toss gently.
If you're interested in optimizing your nutrition or coming up with an individualized nutrition plan - our Registered Dietitian Nutritionist is seeing new patients!!
Learn more about our nutrition services here: Nutrition (chcfhc.org)
Resources: Easy Grilled Vegetable Kabobs ( w/ Oven Option) l The Mediterranean Dish
Watermelon Basil Feta Salad - House of Nash Eats
Alyson Comeau, MPH, RDN, LDN
Registered Dietitian Nutritionist
Community Health Connections